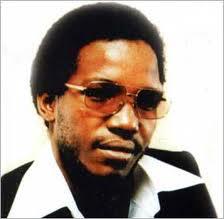 Delroy Wilson was born in Jamaica on October 5, 1948. He was a Jamaican ska, rocksteady, and reggae singer.
(Highlights)
1970 First toured UK – recorded for Trojan while there 1972 Michael Manley's PNP chose his song "Better Must Come" as their campaign song 1976 Recorded a cover of the Wailers – "I'm Still Waiting"1994 Awarded Special Plaque by the Jamaican government – Prime Minister Patterson.
March 6, 1995, died at 46 at Kingston's UWI hospital with complications from cirrhosis of the liver.
RELEASES:
1966I Shall Not Remove
1969 Good All Over
196X Dancing Mood
1971 Better Must Come
1973 Captivity
1975 For I And I
1976 Sarge
1977 Last Thing On My Mind
Money
Mr. Cool Operator
1978 Lovers' Rock
1979 Who Done It
197X True Believer In LoveTrue Believer In Love [aka Dancing Mood]Unedited
1980 Living In The FootstepsProphesy
1982 Go Away Dream
1983 Nice Times
1984 Reggae ClassicsWorth Your Weight In Gold
1985 The Dean Of Reggae
1986 Looking For Love
198X Million Busters In ReggaeSuper Mix Hit
COMPILATIONS/MIX CD'S/VARIOUS ARTISTS:
20 Golden Hits [1978]22 Magnificent Hits [197X]Best Of Delroy Wilson [1966-67]Better Must Come [196X-7X]Better Must Come …. One Day [1970-73]Cool Operator [196X-9X]Doing My Own Thing [1971-75]Greatest Hits [1976]Greatest Hits [1973]Hit After Hit After Hit [1984]Lovers Rock Vol 2 [Johnny Clarke & Delroy Wilson & Doreen Shaffer – 197X]Masterpiece [197X-8X]Once Upon A Time [197X]Original Twelve [196X-7X]Sings 26 Massive Hits From Studio One [197X]Tune Into Reggae Music [197X-8X]
PRODUCTION:
Delroy Wilson – Lovers' Rock [1978]
Delroy Wilson – Once Upon A Time [197X]
Sir Coxsone Sound – King Of The Dub Rock [1975]
APPEARS ON:
17 Dub Shots From Studio 1
A Man And His Hits
A Place Called Africa
Any work
Anything
Barry Myers Presents Scratchy Sounds
Battle AxeBattle Of The Giants
Best Of Vintage
Black & White Reggae Classics Vol 2
Blood & Fire
Blood And Fire
Bunny Striker Lee: The Cool Operator
Burning Up Vol 1
Cactus Classics
Cactus Classics Vol 2
Channel One Story
Channel One Story Chapter Two
Children Of Babylon
Creation Rockers
Darker Than Blue
DJ Andy Smith Presents Trojan Document
DJ Derek Presents… Sweet Memory Sounds
Even More Souled On Reggae
Forward Reggae Vol1
Full Up
Funny Feeling
Get Up Stand Up
Golden Rockers
Good Times Skank
Grooving at Studio 1
Gussie Presenting The Right Tracks
Heavy Stereo Inna Kingston Town
Heptones & Friends Vol 2
Here Comes That Feeling
History Of Trojan Records 1972-95
Hits Of The Past Vol1
Hits Oldies JA Style
Hold Me Strong
Holy Ground In Memoriam
Jamaican Memories
Joe Gibbs Revive 45's Vol II
Jonny Greenwood Is The Controller
Just My Imagination
Just My Imagination Vol 2
King Jammy – A Man And His Music Vol 3
King Kong Compilation
King Tubby On The Mix Volume 1
Lee's Gold Vol 1Leslie Kong's Connection vol 1
Leslie Kong's Connection vol 2
Let's Go To The Blues
Live At The Turntable Club, Kingston Jamaica
Lloyd Coxsone Presents 12
The Hard Way
Love GoesLove Of The Common People
Love Yard StyleLovers Rock Vol 1/2
Lovers Rock Vol 2
More Souled On Reggae
Motion Dub Special
Music Works Vol 1
Music Works vol 2
New & Old Sounds
Nice Up The Dance
Observation Station
Observe The Observer
Oldies But Goodies
Oldies Greatest Hits
Original Club Ska
Party Time At Studio 1
Presenting Jamaica All Stars Vol 1
Rebel Music Vol 2
Reggae Classics – Serious Selections Vol 1
Reggae Classics Vol 1
Reggae In The Grass
Reggae Party
Repatriation
Respect To Studio 1
Return To Orange Street
Rocksteady Fever
Roots Rock Reggae Vol 2
Rough And Tough
Rougher Than Rough
Scratchy Sounds
Shades Of Hudson
Simply Reggae
Sir Coxsone & Duke Reid In Concert At Forresters Hall
Ska Authentic Vol 2
Sly & Robbie + The Taxi Gang v Purple man & Friends
Solid Gold
Sound System Rockers
Sounds Of Young Jamaica
Star Artist
Straighten Up Vol 4
Strong Like Sampson
Studio 1 Showcase vol 3
Studio One Funk
Studio One Kings
Studio One Lovers
Studio One Ska
Studio One Story
The Best In The Business
The Best Of Studio One Collection
The Best Of Sunshot
The Bunny Striker Lee Story
The Heptones & Friends vol 1&2
The Hudson Affair
The Mighty Striker Shoots At Hits
The Music Got Mo 'Soul
The Music Got SoulThe Park Is Mine
The Sound Of Channel One: King Tubby Connection
The Trojan Story Vol 1&2
Third World Disco Vol 3
This Is Reggae Music
Tighten UpTighten Up Vol 5
Top 20 Hits
Touch Me In The Morning
Tougher Than Tough
Touting I Self
Trojan 'Tighten Up' Box Set
Trojan 12″ Box Set
Trojan Bob Marley Covers Box Set
Trojan Eighties Box Set
Trojan Jamaican Hits Box Set
Trojan Jamaican Superstars Box Set
Trojan Legends Box Set
Trojan Lovers Box Set
Trojan Motor City Box Set
Trojan Rare Groove Box Set
Trojan Reggae Brothers Box Set
Trojan Reggae Country Box Set
Trojan Reggae Party
Trojan Rocksteady Box Set
Trojan Roots Box Set
Trojan Selecta Vol 1
Trojan Selecta Vol 5
Trojan Sixties Box Set
Trojan Suedehead Reggae Box Set
Trojan Tribute To Bob Marley Box Set
Truth And Rights Observer Style
U Brown Hit Sounds From Channel One
Unity Is Strength Vol 2
Uptown Top Ranking
Version Galore Vol 2
With A Flick Of My Musical Wrist
Your Jamaican Girl
As a musician
VOCALS:
Delroy Wilson – 22 Magnificent Hits [197X]
Delroy Wilson – Better Must Come [196X-7X]
Delroy Wilson – Better Must Come [1971
]Delroy Wilson – Captivity [1973]
Delroy Wilson – For I And I [1975]
Delroy Wilson – Greatest Hits [1973]
Delroy Wilson – Hit After Hit After Hit [1984]
Delroy Wilson – Last Thing On My Mind [1977]
Delroy Wilson – Living In The Footsteps [1980]
Delroy Wilson – Looking For Love [1986]
Delroy Wilson – Lovers' Rock [1978]
Delroy Wilson – Million Busters In Reggae [198X]
Delroy Wilson – Money [1977]
Delroy Wilson – Mr. Cool Operator [1977]
Delroy Wilson – Nice Times [1983]
Delroy Wilson – Original Twelve [196X-7X]
Delroy Wilson – Prophesy [1980]
Delroy Wilson – Reggae Classics [1984]
Delroy Wilson – Sarge [1976]
Delroy Wilson – Super Mix Hits [198X]
Delroy Wilson – The Dean Of Reggae [1985
]Delroy Wilson – True Believer In Love [197X]
Delroy Wilson – True Believer In Love [197X]
Delroy Wilson – Who Done It [1979]
Delroy Wilson – Worth Your Weight In Gold [1984]