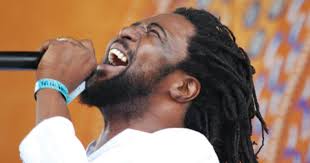 Rolando Ephraim McLean, aka Yami Bolo, was born on October 1, 1970, in Jamaica. Yami experienced music at the church that he attended with his grandmother. After seeing the love that Yami had for music his grandmother bought him an accordion and trombone to follow his dream.
In the '80s, Yami joined with Sugar Minott's Youth Promotion Crew. It was here he got his first taste of the reggae music industry and performing live. Yami's first performance took place at the St. Andrew Technical High School. He sang two songs, "When A Man's In Love" and Take It Easy." ("Take It Easy" was sampled by KRS-ONE)
Yami has toured worldwide and worked with many of the best producers in the business (Clive Hunt, Augustus Pablo, Coxson Dodd, Winston Riley, Lee Perry, and Sly and Robbie). He has also worked alongside many well-known reggae and hip-hop artists (Sugar Minott, Damian Marley, The Marleys, Capleton, and Wyclef Jean). Yami's work graced the 2001 Grammy Award Winning Album, Halfway Tree by Damian Marley.
This artist/musician has strong beliefs and has conducted Rastafari cultural studies at world-renowned universities, like SUNY in New York State and M.I.T in Cambridge, Massachusetts. Also, Yami Bolo has supported the city of New Orleans and its surrounding areas by volunteering his musical talent at live performances in Louisiana in the Summer of 2009.
Discography
Albums
• Jah Made Them All (Rockers, 1990)
• He Who Knows It Feels It (Heartbeat, 1991)
• Up Life Street (Heartbeat, 1992)
• Jah Love (VP, 1993)
• Fighting for Peace (RAS, 1994)
• Wonders And Sign (Super Power, 1997)
• Wisdom Cry (IMAJ, 1998)
• No Surrender (Jet Star Records, 1998)
• Freedom And Liberation (Tabou 1, 1999)
• Healing Of All Nations (Roots Foundation, 2001)
• Jah Chemistry of Loned (Yamibolo Rec 2010)
EP's
• Blood Diamonds Dub Set (Gold Moor Sound, 2008)
Singles
• Blood Diamonds (Gold Moor Sound, 2008)
▪ "Bloody Coltan" (Gold Moor Sound, 2011)
Appears on
• Champion Sound
• Current Artists At Studio 1 Vol 1
• Hidden Treasures
• Skengdon All-Stars
• Stalag 17,18 & 19
• Tree Of Satta Vol 1
• Trojan Reggae For Kids Box Set
• Masquerade – Wyclef Jean
• Preacher's Son – Wyclef Jean
• Live With Ziggy
• Love Is Dangerous (Sony/Japan)