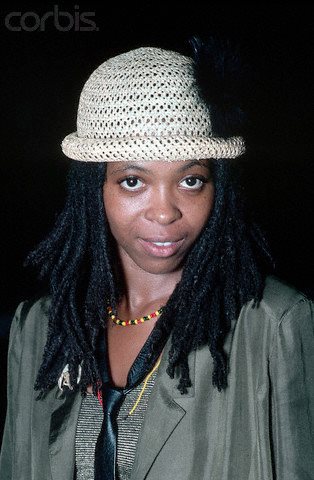 Sandra "Puma" Jones was born in Columbia, South Carolina, on October 5, 1953. She was a member of the Grammy Award-winning group Black Uhuru. Puma graduated from Columbia University with a Master's Degree, before becoming a social worker in New York City. She studied dance with the Chuck Davis troupe where she took particular interest in African dance.
Puma sang with Mama Africa and Ras Michael and the Sons of Negus. She later joined Black Uhuru for the recording sessions of the 1979 album. Then Puma went on to sing on seven studio albums.
After the departure of Michael Rose in 1984, and with the new member Delroy "Junior" Reid, Puma was committed to the group. Sadly in 1987, she was diagnosed with breast cancer.
As the illness worsened, she was forced to step down from the group. Puma Jones then returned to New York for treatment. After a long battle with breast cancer, Puma died on January 28, 1990, aged 36.
Puma's work:
Backing Vocals-
Black Uhuru – Anthem [1983]
Ras Michael & Sons Of Negus – Movements [1978]
Ras Michael & Sons Of Negus – Revelation [1982]