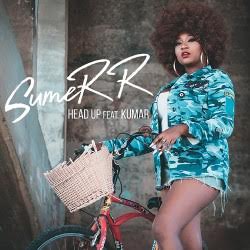 Purchase the Brand New Single "Head Up" from SumeRR
This is the perfect time for us to keep our Head Up!
The Jamaicana bombshell SumeRR dropped another single from her upcoming album "Downs District" called "Head Up" featuring Raging Fyah's singer Kumar!
Music lovers and DJ's add this track to your mix and playlist! Don't forget to spin "Head Up" in the clubs!!!
With a voice so catchy, her militant presence on stage and the freshness and boldness characteristic of Jamaican music, SumeRR is a versatile artist, able to move easily between different styles: roots, soul, dancehall, rap… without ever losing sight of her Jamaican roots. An artist who surprises with the agility, precision, and warmth of her voice and the strong, vibrant and charismatic spontaneity that captures any lover of good music.
The Mandeville native currently resides in Spain.
Her upcoming album "Downs District" is set to be released on May 1st.
Downs District is the debut album of SumeRR, a rounded work that revolves around reggae, drawing lines with soul, R&B, and rap to offer us an intense musical experience by the different rhythms that the young Jamaican artist dominates.