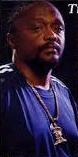 Triston Palmer, aka Triston or Tristan Palma /Palmer was born on September 24, 1962. He grew up in the Waltham Park area of Kingston and decided from an early age that he wanted to be a singer. He began by singing to the accompaniment of Soul Syndicate guitarist Tony Chin. His first recording was "Love Is A Message" for producer Bunny Lee when he was eight years old, which was followed by "A-Class Girl" for the Black Solidarity label, which was co-run by Palmer and Ossie Thomas. He came to the attention of producer/deejay Jah Thomas, who began a substantial association with Palmer with the track "Entertainment" when Palmer was aged around 14. He made a breakthrough with his performance in 1979 at the General Penitentiary Memorial Concert for Claudie Massop, which also featured Bob Marley. Palmer became a popular artist in the "singjay" style in the early 1980s. "Entertainment" was a Jamaican hit and he enjoyed further successes with "Water Bubbling", "Spliff Tail", "Raving", and "Run Around Woman". Palmer also worked with Linval Thompson, who produced his Joker Lover and Settle Down Girl albums, and later George Phang, Tony Robinson, Sugar Minott, Bunny Gemini, and Castro Brown. At one point in the early 1980s, Palmer had nine songs in Jamaica's Top 40.
In the mid-1980s, Palmer became involved in the famine-relief charity project Music is Life, along with Freddie McGregor, Mutabaruka, Gregory Isaacs, Third World, Edi Fitzroy, and Steel Pulse, contributing to the charity single "Land of Africa".
His popularity continued through the 1980s, and in the 1990s he recorded the Three Against War song and album with Dennis Brown and Beenie Man.
Palmer has worked as a producer himself, working with artists such as Phillip Frazer, Josie Wales, and Robert Ffrench, and has provided backing vocals for singers such as Sugar Minott, Tony Tuff, and Freddie McGregor. He also built his Star Creation studio.
RELEASES
1981
1982
Fancyness
Joker Lover
Joker Smoker
ShowCase
Touch Me, Take Me
Nice Time (Triston Palmer & Toyan)
1983
1984
The Big Showdown (Phillip Frazer & Triston Palma)
Triston Palma Meets Early B The Doctor (Triston Palma Meets Early B The Doctor)
1985
Reggae 85 (Al Campbell Meets Triston Palmer)
198X
I And I And Inity (Triston Palmer & Phillip Frazer)
COMPILATIONS
Entertainment [198X]
Spliff Tail [198X]
The Best Of [198X]
Triston Palma Meets Michael Palmer [Triston Palma Meets Michael Palmer – 1982-84]
Triston Palmer Meets Jah Thomas In Discostyle [Triston Palmer Meets Jah Thomas – 198X]
PRODUCTIONS
Early B – Ghost Busters [1985]
Jennifer Lara – Weekend Loving [1985]
Josie Wales – Ruling [1986]
Phillip Frazer & Triston Palma – The Big Showdown [1984]
Robert Ffrench – The Favourite [1985]
Triston Palmer – Fancyness [1982]
Triston Palmer – The Best Of [198X]
APPEARS ON
Can't Stop Us Now
Dancehall
Dancehall Explosion
Greensleeves 12" Rulers
Haul & Pull Up Selecta
Hidden Treasures
Hidden Treasures Vol 2
I And I And Inity
Jah Jah Dreader Than Dread
Jah Thomas Greensleeves 12 Rulers
Let's Go To The Blues
Midnight Rock Classics Vol 1
Midnight Rock Presents Reggae Veterans Vol 1
Nice Time
One-A-Way Style
Roots Dancehall Party
Roots Reggae Party Vol 1
Shank I Sheck
The Big Showdown
The Biggest Dancehall Anthems
Triston Palma Meets Early B The Doctor
Triston Palma Meets Michael Palmer
Triston Palmer Meets Jah Thomas In Disco style
Trojan 12″ Box Set
Trojan Dancehall Box Set
Trojan Dancehall Roots Box Set
Trojan Roots and Culture Box Set
Vintage Various Artists 70s-80s
AS A MUSICIAN
Al Campbell Meets Triston Palmer – Reggae 85 [1985]
Triston Palma – Presenting [1981]
Triston Palma Meets Early B The Doctor – Triston Palma Meets Early B The Doctor [1984]
Triston Palma Meets Michael Palmer – Triston Palma Meets Michael Palmer [1982-84]
Triston Palmer – Entertainment [198X]
Triston Palmer – Joker Lover [1982]
Triston Palmer – Joker Smoker [1982]
Triston Palmer – Show Case [1982]
Triston Palmer – Touch Me, Take Me [1982]
Triston Palmer & Phillip Frazer – I And I And Inity [198X]
Triston Palmer & Toyan – Nice Time [1982]
BACKING VOCALS
Freddie McGregor – Come On Over [1983]
Freddie McGregor – Rhythm So Nice [1983]
Sugar Minott – Ghetto-ology [1979]
Tony Tuff – Presenting Mr. Tuff [1981]
ARRANGER
Josie Wales – Ruling [1986]