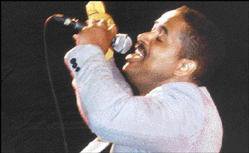 Junior Tucker was born in Kingston, Jamaica on September 23, 1966. He began singing at the age of 5. Junior became a household name in Jamaica at the age of 7 with his first song "Happy" that went to number in the charts.
At age 12, he was signed to Island Records. At 14, he obtained a recording contract with Geffen Records, USA, and at 23, he was signed to Virgin Records, UK.
During his days as a dancehall artist, Junior had many number one songs, singer of the year titles, fame, fortunes, jet-set lifestyle that one would love to have. For Junior, this brought added pressure, as he had to work extremely hard to maintain his position for the public.
The turbulence that was present in his life, the death of his father, and having to maintain a number one position, he yearned a more meaningful life. In so doing, he kept searching, praying, and looking at other religions for answers. One night he received the answer as it woke him from his sleep. It was then and there he was delivered. Junior publicly accepted Jesus Christ at a gospel concert that very same week.
Since Junior accepted Jesus Christ, he has often professed that he has seen the light, and there is no turning back. Junior resides in the USA with his family. He continues to bless his audience with his singing, preaching, and praise workshops.