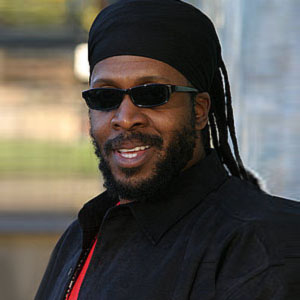 HAPPY BIRTHDAY TO INI KAMOZE
Cecil Campbell a/k/a Ini Kamoze was born on October 9, 1957. He is best known for his signature song, "Here Comes the Hotstepper", which was released in 1994, and also topped the U.S. Billboard Hot 100 chart. It also reached number one in Australia and New Zealand, and number four in the UK Singles Chart.
Ini's first recording was in the early 1980s, cutting his first single, "World Affairs," in 1981. He was also named the "Voice of Jamaica". He was picked up by top producers Sly and Robbie, Kamoze released a 12-inch single called "Trouble You Trouble Me".
Ini adopted another nickname later on from his signature song title, Kamoze would become known as the "Hotstepper", from the patois for a man on the run from the law.
1988, Kamoze had disappeared from the music scene although he did a few releases the did not receive the response when compared to his prior work.
Ini opened his label, putting out a compilation album called Selekta Showcase, which featured a popular Kamoze single titled "Stress". Four years later he released his next album, 16 Vibes of Ini Kamoze, which sold well.